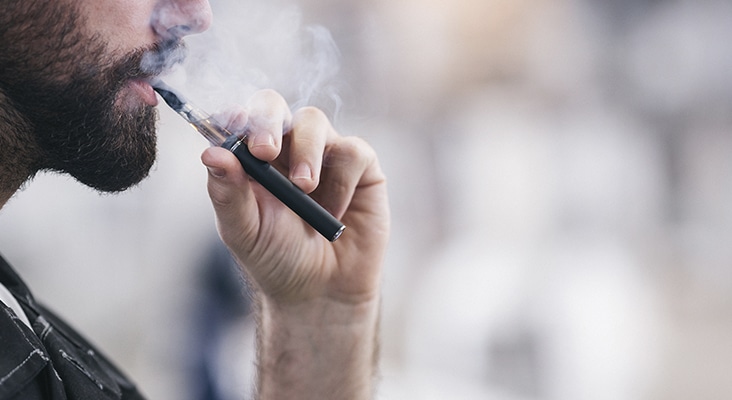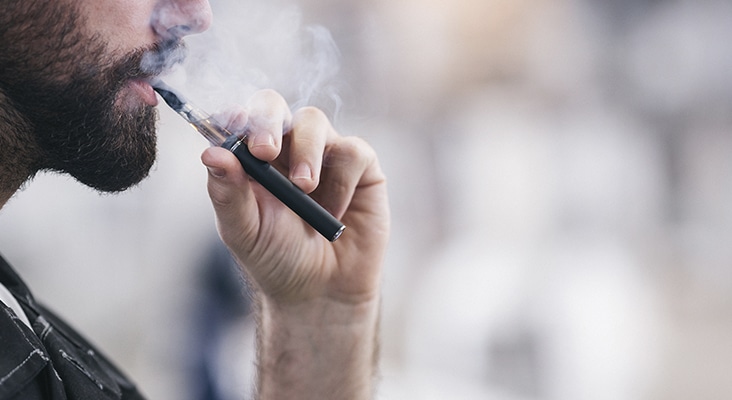 Smoking has taken on a new form. While the use of traditional cigarettes has declined, alternatives, such as electronic cigarettes (e-cigarettes) or vaping, have been gaining popularity. Middle and high school students are the largest users of these smoking alternatives. According to a report by the United States Centers for Disease Control and Prevention, 2.1 million US middle and high school students used e-cigarettes in 2017.
Photo Credit: danchooalex / iStock / Getty Images Plus
Chemical Ingredients
Although the liquid in e-cigarettes does not contain combustible tobacco, it usually contains nicotine, which is derived from the tobacco plant. Nicotine can also be manufactured synthetically. Many types of liquids are available. Most liquids contain propylene glycol, vegetable glycerin, nicotine, and flavorings, such as menthol, bubblegum, and strawberry. Carcinogens, such as formaldehyde, acetaldehyde, and nitrosamine, have been found in e-cigarette vapor. Additionally, trace amounts of lead and calcium have been found in the liquid due to the heating mechanism, as well as diacetyl. Diacetyl is a chemical that provides the creamy, buttery flavor used in microwave popcorn; however, it destroys the lungs' airways, which can lead to bronchiolitis obliterans, or popcorn lung.
Photo Credit: BackyardProduction / iStock / Getty Images Plus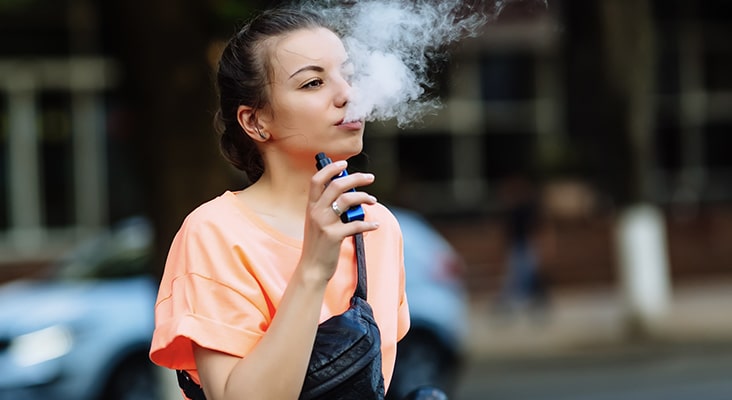 Significant Side Effects
E-cigarette use has been associated with throat, eye, and airway irritation. E-cigarette use can also constrict airway flow and reduce exhaled nitrous oxide. While the overall long-term health consequences of e-cigarette use are unknown, asthma has been reported in children with consistent exposure. A 5 ml refillable e-cigarette cartridge can contain a nicotine concentration of 20 mg/mL. Nicotine is highly addictive, and at least one-third of users report being just as addicted to e-cigarettes as they were to cigarettes.
Photo Credit: licsiren / iStock / Getty Images Plus
Impact on the Oral Cavity
In addition to the systemic health concerns, e-cigarettes can negatively affect the oral cavity. The chemical vapors produced by vaping can alter or damage the epithelial cells, leading to oral ulcerations or oral cancer. While additional studies on the effects of e-cigarette vapors are needed, early research has indicated an inflammatory response in periodontal ligament fibroblasts, which may lead to a greater risk for periodontal disease. Other side effects include sore throat, dry mouth, ulcers, headache, nausea, hoarseness, and coughing.
Photo Credit: Aleksandr Kondratov / iStock / Getty Images Plus
Role of Oral Health Professionals
Dental professionals have a responsibility to educate their patients and the public on the detrimental effects of smoking, including the use of e-cigarettes. Medical history forms should include questions on the use of not only traditional tobacco products, but also the use of alternatives. Tobacco cessation programs should include educating patients about the dangers associated with vaping. Furthermore, only approved smoking sessions therapies, such as the patch, gum, or medication, should be recommended as tobacco cessation aids.
Photo Credit: AleksandrYu / iStock / Getty Images Plus
Motivational Interviewing
When addressing patients who smoke, whether with traditional cigarettes or alternatives, a nonoffensive, nonthreatening, and nonconfrontational manner should be used. Motivational interviewing (MI) is a way to help counsel patients to quit smoking. According to Ramseier and Fundak, the purpose of MI is to gauge the patient's motivation to change, increase the patient's desire and confidence to change, and gain the patient's commitment to discuss the change at a follow up visit or call. For those patients who continue to struggle, or who have experienced a relapse, the health care professional should make a referral to the patient's primary care provider.
Photo Credit: gawriloff / iStock / Getty Images Plus
The post Dangers of Smokeless Tobacco appeared first on Dimensions of Dental Hygiene.